The Marshall County Manufacturers Association (MCMA) is an advocacy group comprised of business leaders from area industries. There are currently 50 MCMA member companies. The MCMA provides a unified voice on legislation that affects the business environment of Marshall County and represents the interests of industries located within the county. The MCMA also provides valuable networking opportunities for its members, strengthening the business community as a whole.
Contact us today to hear about the many benefits MCMA has to offer your company.
MCMA 2022 BOARD OF DIRECTORS
Mark Dummer, Atrion Medical Products –  President
Phillip Murphree, FSGroup –  Vice President
Larry Brock, MCEDC- Secretary / Treasurer
Charles Bailey, Southern Metal Fabrication
Bert Briggs, Highline Warren
Alan Davis, BPI Media Group
Keith McGee, Marshall Pallet Company
Bill Sellnow, Dixie Grinders
Shay Walston, Marshall Precision Manufacturing
Zach Lee, Alabama Community College System 
Sherman Leeth, Marshall Technical School 
Jennifer Palmer, Marshall County Legislative Delegation Office
Teresa Walker, Snead State CC
Member industries are featured in catalogs that are distributed to schools, colleges, events, and throughout the community.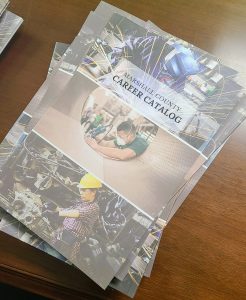 CONTACT THE MCMA - FOR MEMBERSHIP INFORMATION
Marshall County Manufacturers Association
Larry Brock, Executive Director
2208 Ringold Street, Suite 1-A
Guntersville, AL 35796