The Marshall County Manufacturers Association (MCMA) is an advocacy group comprised of business leaders from area industries. The MCMA provides a unified voice on legislation that affects the business environment of Marshall County and represents the interests of industries located within the county. The MCMA also provides valuable networking opportunities for its members, strengthening the business community as a whole.
Contact us today to hear about the many benefits MCMA has to offer your company.
Each year the Marshall County Manufacturers Association awards scholarships to students and current MCMA employees seeking technical training, certifications, or degrees.
MCMA 2023 BOARD OF DIRECTORS
Bert Briggs, Highline Warren - President
Bill Sellnow, Dixie Grinders - Vice President
Larry Brock, MCEDC- Secretary / Treasurer
Mark Dummer, Atrion Medical Products –  Past President
Charles Bailey, Southern Metal Fabrication
Alan Davis, BPI Media Group
Keith McGee, Marshall Pallet Company
Shay Walston, Marshall Precision Manufacturing
Zach Lee, Alabama Community College System 
Patrick Smith, Marshall Technical School 
Jennifer Amos, Marshall County Legislative Delegation Office
Teresa Walker, Snead State Community College
Laura Braswell, Marshall County EDC
Advanced Flight Solutions
Agri Flavors, Inc.
Ainsworth Homes LLC *
Alabama Technology Network *
AlaTrade Foods, LLC
Americold
AR Recycling/Global Manufacturing
Arab Cartage & Express *
Arab Electric Cooperative **
Atrion Medical Products, Inc.
BAP Agency *
BK Aerospace
BPI Media Group
C & E Supply, LLC
CDG **
CF Media *
Citizens Bank & Trust **
CK Solutions **
Colormasters
Digital Enterprises *
Dixie Grinders, Inc.
D&N RV Service
Elwood Staffing *
Emmaus Foods
Factory Connection
Farmers Telecommunications Coop. **
First Bank of Boaz **
First Southern State Bank **
Foodland - Douglas *
Frogg Toggs
FSGroup
Guntersville Electric Board **
Highline Warren
HFI, LLC
Hunt Design & Manufacturing
Huhtamaki Americas
Hyco Alabama
ICD Melting Solutions
Johnson Machine & Tool, Inc.
JST Sales America, Inc.
Kappler, Inc.
Kimball Midwest
Laysan Bio
Lowery Manufacturing
Marshall County Gas District **
Marshall Dekalb Electric Coop. **
Marshall Industrial Supply *
Master Extrusion (Colormasters)
Marshall Medical Centers *
Marshall Pallet
Marshall Precision Manufacturing
MDA Professional Group **
Metal Research
Mid South Water
Mitchell Grocery Corporation
Mueller Company **
Municipal Utilities Board **
Newman Technology
Noralco Industries/Shutters By Design
Olympia Construction **
Paragon Decors, Inc.
Parallel 33
Parker Hannifin Corporation
Peoples Bank of Alabama **
Peoples Independent Bank **
Pilgrim's Pride
Pinnacle Manufacturing, LLC
Progress Rail Services
Propac Images
PTS, Inc.
Redstone Federal Credit Union **
Roy Tech Environs, Inc. **
Sand Mountain Park & Amphitheater **
Sand Mountain Toyota **
Snead State Community College *
Southern Metal Fabricators
Southern Parallel Forest Products
Syncro Corporation
Tenneco/DRIV
TS Tech
Tucker Milling Company **
Tyson Foods, Inc.
Ultrasource
Wayne Farms
Wendy Patterson, Main Street Realty **
Wholesalecars.com **
Wilks Tire/Wilks Treading **
*Associate Members
**Investing Partner
Member industries are featured in catalogs that are distributed to schools, colleges, events, and throughout the community.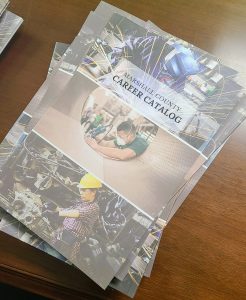 CONTACT THE MCMA - FOR MEMBERSHIP INFORMATION
Marshall County Manufacturers Association
Larry Brock, Executive Director
2208 Ringold Street, Suite 1-A
Guntersville, AL 35796