A BANNER YEAR FOR MARSHALL COUNTY
Two reports released early in June reflect the banner year that Marshall County had in 2016 and how that is accounting for the lowest unemployment rate we have seen in almost a decade.  The Alabama Department of Commerce released its annual New and Expanding Report.  This report details the announced jobs of new manufacturing companies and existing manufacturing companies on a county by county basis.   It is a great barometer of how the local economy is doing in the county.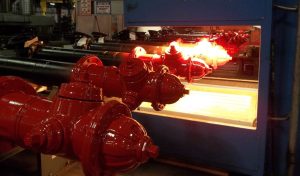 Marshall County ranked fifth in the State of Alabama for new jobs announced.  This is behind Montgomery, Madison, Jefferson and Baldwin counties, all counties with many times the population of that in Marshall.  In 2016, 721 jobs were announced by 11 companies.  Global Aviation Solutions announced it would locate at the Guntersville Municipal Airport and will create approximately 50 new jobs.  Other companies that announced expansions included Umicore, Emmaus Foods, Colormasters, Master Extruders, Newman Technology, Farm Fresh Foods, FABCO, BPI Media, Southern Metal Fabricators and Warren Distribution.
These new announced jobs have helped bring Marshall County into an enviable position with the lowest unemployment rate since 2008.  In April, the unemployment rate in Marshall County fell to 3.9%.  The county has a labor force of 41,818, of that, 40,202 are employed.  The last time Marshall County saw an unemployment rate under 4% was May 2008, before the housing bubble crashed nationally causing what became known as the Great Recession.
This is having a ripple effect with the local economy.  Marshall County realtors say that the housing market is very hot right now.   The cities are all taking in record amounts in sales tax numbers.  These factors, coupled with the fact that tourism numbers are likely to see record levels in the next year due to events such as Hydrofest 2018, point to a bright future for the economy of Marshall County.  County and city leaders have done an excellent job helping set the stage for the prosperity we are experiencing.
On the state level, we are also seeing low unemployment numbers.  Alabama's unemployment rate in April was 5.4%.  While this number might not be low enough to have triggered a salary for a certain former governor, it still is the lowest Alabama has seen also since May 2008.  Whether it's A320s taking off from Airbus in Mobile, Polaris ATVs and Remington firearms wandering the woods outside of Huntsville or Hyundai Sonatas hitting the streets from Montgomery, manufacturing in Alabama is on a roll.  And we are playing our part here in Marshall County.